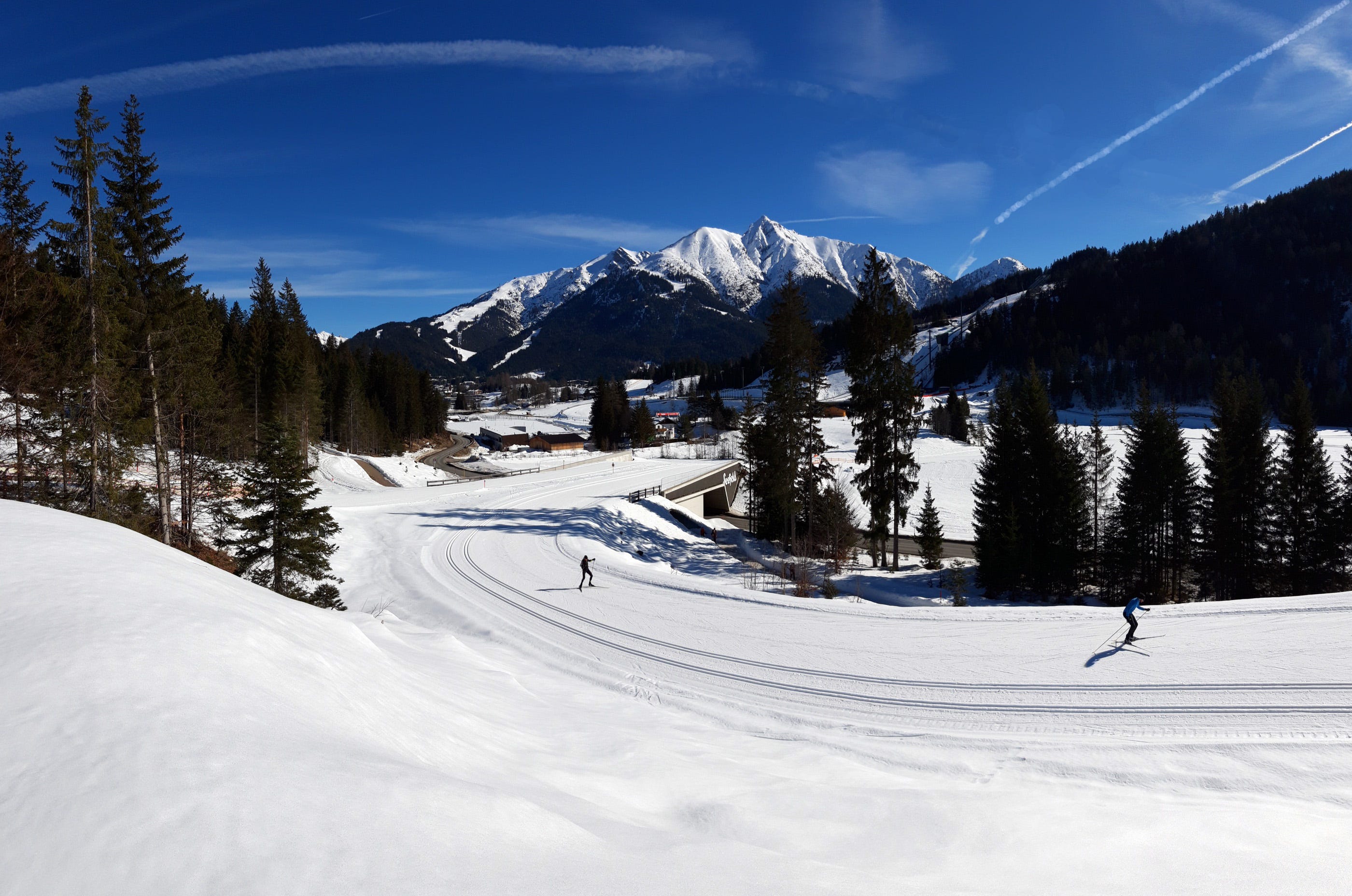 Cross Country Skiing School
Langlaufschule Seefeld Florian Meissl
XC-Skiing on the high plateau of Seefeld in Tyrol is like a dream! The altitude around 1.200m and perfect infrastructure of nordic world championships ensure favorable snow conditions from early December until end of March. Select among one of the following courses to startup or finetune your XC-skiing skills.
I´m looking forward to welcome you in Seefeld!
Private Courses - best learning progress
Meeting point for courses is at the starting point of the track (ski stand & bench) 20 meters in front of Hotel Wetterstein & sport shops Rückenwind and Norz. (other meeting points possible on request) Please note: Tickets for the XC skiing tracks are mandatory in Seefeld/Leutasch and available in your hotel (discount) or at shops and vending machines at track entry points.
Group courses for you group of friends or team in a company event are a good mixture of learning and fun in the team. Maximum number of participants is 12. Get in contact, tell me about your demand and we´ll design a tailored course according to your needs.
ski preparation
Learn how to maintain and prepare your skis for the next tour our race. It´s not too difficult, if you know how! :-) Your equipment will say thank you and you will find out that it´s easier to ski with well prepared material.
Contact me via this form or whatsapp or phone. (links on top of the page).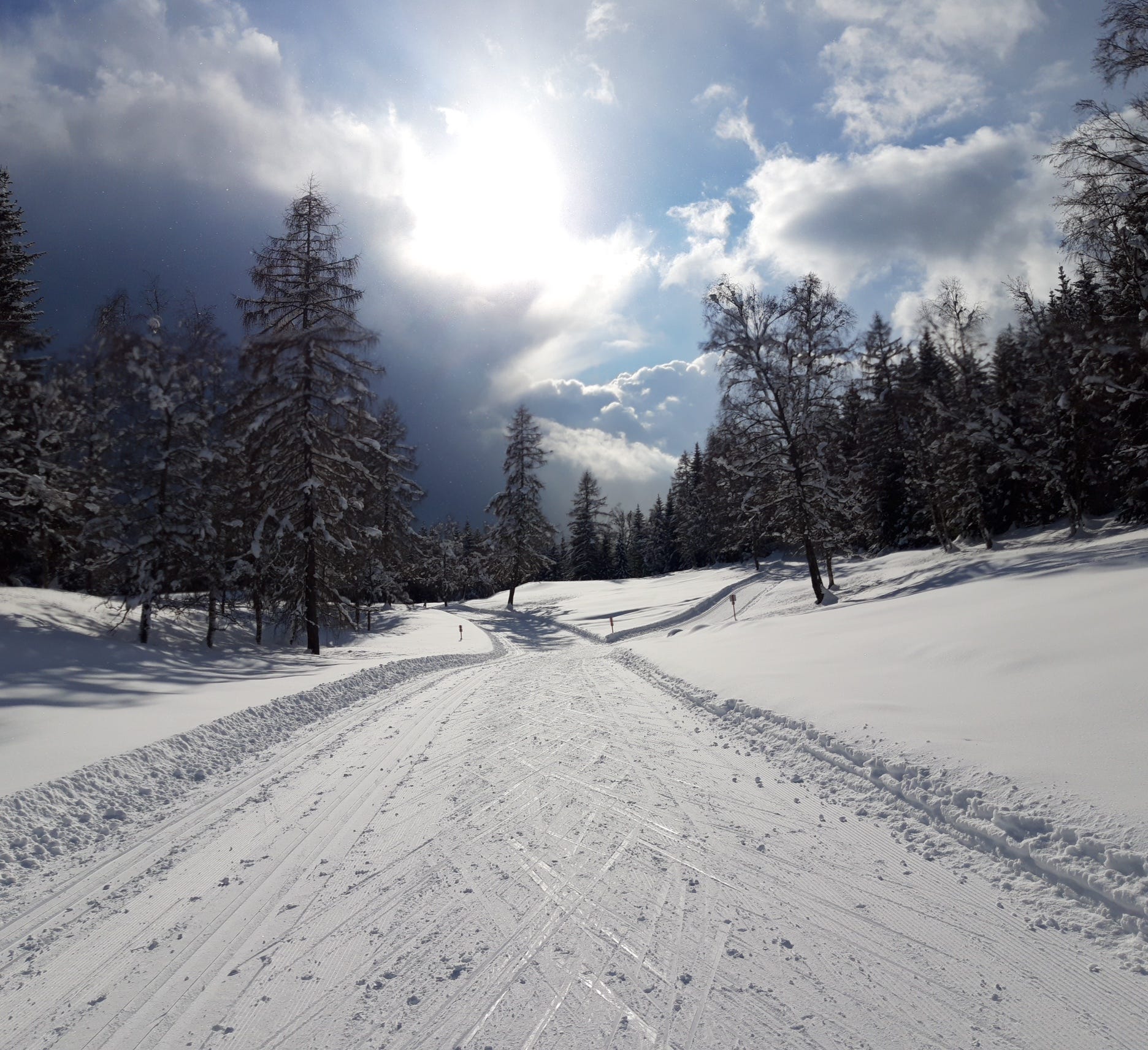 endurance sports & nordic skiing
As an open air winter sport XC-skiing provides a lot of advantages:
Enjoying snow in a beautiful landscape is good for you mind. Instead of surfing through social media for hours, start nordic skiing and recharge your batteries!
XC-skiing requires most of the muscles in your body in collaborative work to get forward. Thereby it is one of the healthiest kinds of sport. Nordic Skiing strengthens your muscles, blood, circulatory system, heart and loung. Athletes who work on their VO2max can steer and apply ideal interval training throuth XC-skiing in a suitable setting.
Power generation of the legs is dominant with 70%, however you will supply approximately 30% with your upper body, abdominal muscles, shoulders and back. XC-skiing is a highly efficient prevention against malpositions and back pain.
Fast gliding on one leg, in combination with complex movements required to run a couple of different Skating and Classic techniques, require a high level of coordinative skills. It is no accident that Skating is called "dancing on skis".
Risk: Among all sports performed on skis, nordic skiing is the one with the lowest risk of injury.
All in all: There is no way around nordic skiing on the high plateau Seefeld in Tyrol / Austria. :-)
XC skiing in Seefeld and United Nations Sustainable Developlent goals: a good fit. First of all nordic skiing is good for health, statistics say that nordic skiers live longer. Movement is 100% man / woman powered. Travel to Seefeld via train, bus, or if by car, then in a group, so you keep your CO2 imprint low. Stay on our well prepared XC-skiing tracks, wild animals and sensitive plants in the Alpine woods around will say thank you!